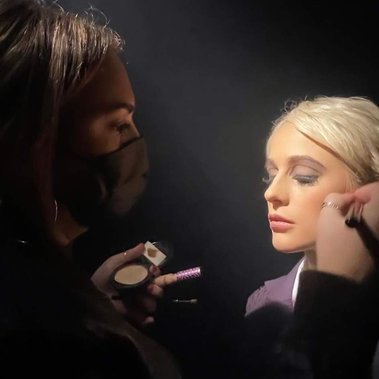 Biography
Kristen Bacino is an accomplished beauty professional and a highly sought-after Makeup Artist with over 17 years of experience. Her career has spanned a wide variety of industry sectors including Production, Red Carpet, Fashion, Broadway, Editorial and Retail Management.
Born and raised in New York City, Kristen's creative passion began at a very young age. With parents in the business – her father an actor, her mother a hair stylist - Kristen had an early focus on the arts. She studied makeup artistry in High School and went on to get certified at The Learning Institute of Beauty Science in New York City, where she specialized in film, television, and special effects makeup.
At the start of her career, Kristen worked in retail cosmetics and artist management. She worked for such well-known brands such as MAC and NARS cosmetics. In that time, she managed million- dollar locations with large teams of employees and was heavily immersed in the fashion/editorial side of the business. As a makeup artist, Kristen supported over 18 seasons of "Mercedes Benz New York Fashion Week".
In 2014, Kristen began freelancing as a makeup artist full- time. Her extensive credits include "Funny or Die" starring Mariah Carey, E! News, Bravo, TLC, The History Channel, Oxygen, Discovery, The Cooking Channel, The Travel Channel and Universal Kids, to name a few. Kristen is currently a personal makeup artist to some of Broadway's finest including Rita Moreno and Sophia Anne Caruso.
Kristen was excited to join the WWE hair and makeup team in 2018. She has worked on Evolution, Raw and Smackdown as well as pay-per-view events such as Wrestlemania and Money In The Bank. Aside from these WWE events, she also works with Becky Lynch for personal appearances. Most recently, Kristen worked on the WWE2K20 commercial and the FOX/WWE photoshoot in Toronto.